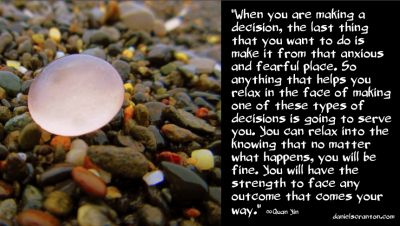 "It is I, Quan Yin.
If you are struggling to make an important decision, there is really only one thing that you need to do. Minimize the importance of the outcome of that decision. When you believe that the outcome of your decision is bigger and more powerful than you, you place too much significance on the decision and you feel anxious and afraid.
When you are making a decision, the last thing that you want to do is make it from that anxious and fearful place. So anything that helps you relax in the face of making one of these types of decisions is going to serve you. You can relax into the knowing that no matter what happens, you will be fine. You will have the strength to face any outcome that comes your way.
You can demonstrate this to yourself by looking back at decisions you've made in the past and recognizing that even when things didn't work out the way you had hoped, they still worked out. You are always capable of gaining insights from whatever outcome you are faced with. You are always able to learn more about yourself, no matter what occurs or does not occur.
You are always able to find more strength than you knew you had, regardless of what happens. You are the key. You are the most important aspect of whatever the decision is about. Decide to make yourself the most powerful piece of the puzzle. Decide that you are capable of handling anything that comes your way and that you can always make course corrections. Decide that these things are true, and they most certainly will be.
I am Quan Yin, and I hold you in my heart."
Show Your Gratitude – Make a Donation