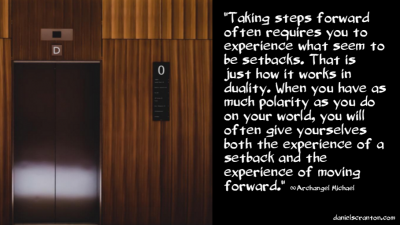 "Welcome. We are here to serve and assist you.
Taking steps forward often requires you to experience what seem to be setbacks. That is just how it works in duality. When you have as much polarity as you do on your world, you will often give yourselves both the experience of a setback and the experience of moving forward. This is often confusing to you because you tend to believe that you are always and only moving in one direction or the other.
You tend to think that you can only be offering one vibration at a time, and therefore, can only experience one type of life circumstance at a time. What this experience does for you is that it gives you a taste of both ends of the spectrum, and this allows you to see more clearly the path ahead.
You are also being given the opportunity to have a fuller experience of an idea or a concept. But it can be challenging for you to see the benefit in that. You tend to only see the benefit in moving forward, in moving closer to your goal, or your desire, or even the more evolved you.
When you are fifth-dimensional beings, you will understand more clearly how paths do not move in a linear way. You will understand more the ability for you to jump around and have no consistency whatsoever in what you experience.
This can be very confusing to the mind and very scary to the emotional body. But look at it this way. If you wanted something to expand, wouldn't you want to push at the edges of it from every possible angle, not just one?
You are expanding. You are becoming more. And the experience of moving forward and moving backwards and moving forward, gives you precisely what you need to expand and to burst free from the boxes you have created and labeled as 'good' and 'bad.' We invite you to discover who you are in the midst of these experiences, rather than simply measuring how close you are or how far you are away from those goals and desires that you want for yourselves.
We are Michael. We are infinite. We are Love."