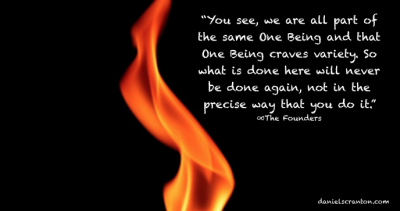 "Blessings. We are so pleased to have the opportunity to share with you our vibration. As you already know, we are The Founders, and we are the keepers of the flame. So our mission is to guide you and to give you a perspective on reality in order to be of service.
We are also here to serve our own desires, because like you, we have them. Those desires fuel us. We are seeking that which you would call a win-win situation. We know that your evolution is assured. We know that you become the beings you are already becoming.
So our agenda with you is to see you do it and to notice what your decisions are leading up to those moments that you have where everything comes together. Those decisions will inform us as we take that data and use it to create another universe, and another, and another.
You see, we are all part of the same One Being and that One Being craves variety. So what is done here will never be done again, not in the precise way that you do it. So while we are guiding you, we are watching and witnessing and taking mental notes. We are collaborators with you. We are future extensions of you. And yet, we are still here because we have something to gain by observing your process.
And of course, our gain is your gain, because as we create new universes, we give you new playgrounds. We help you find new challenges, new purposes, and new ways of creating yourselves.
We are The Founders. We are the keepers of the flame."