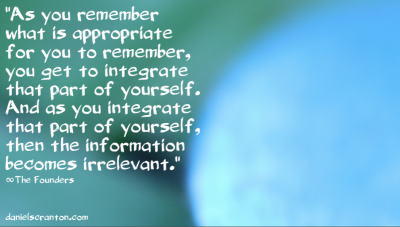 "Blessings.
By now you will have recalled that which you need to have remembered in order for you to function appropriately as a human being in a society. You are not required to remember all that you have experienced as a human in order for you to move forward in your evolution. You will only remember that which is significant, and you will take the information that you receive and use it to your benefit now.
You have acquired many different skills throughout your many lifetimes as a human being, but you are not going to use all of those skills in this lifetime. Because were you to know everything that you once knew as another version of yourself, you would be burdened with too much information. It would be like owning all of the furniture and all of the trinkets that you have ever known, creating quite a bit of clutter.
As you remember what is appropriate for you to remember, you get to integrate that part of yourself. And as you integrate that part of yourself, then the information becomes irrelevant. Everything that you need is available to you in the moment. You don't have to worry about forgetting something that you might need in the future, and you don't need anything that you don't already have.
So if you find yourself wishing that you had some sort of skill so that you could do more on your own, just recognize that even though you are all whole and complete as you are, it is also nice to co-create with others. And so having a reason to call and hire a plumber, or an electrician, or a mechanic gives you the opportunity to have an interaction that will serve you in some other way.
So we recommend that you see all of those opportunities as powerful and let yourselves off the hook for not having every skill imaginable in this one lifetime.
We are The Founders. We are the keepers of the flame."