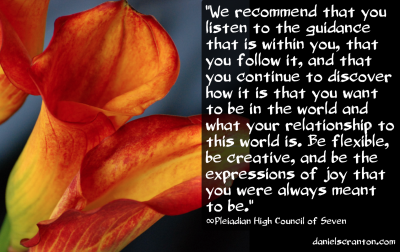 "We are the Pleiadian High Council of Seven, and we are pleased to offer you our words of wisdom.
There comes a time in every human's incarnation that you begin to really understand who it is you are and how it is you relate to the world. This usually comes during your period of adolescence. And in that time period, you begin to question everything. Now, as you progress and discover who it is you are and how it is you relate to the world, you begin to grow exponentially.
You begin to see your lives as having meaning and purpose, and you begin to take on responsibility. Now once you have taken on responsibility, you are making a deal of sorts with the world. And then you spend your adult lives trying to live up to that bargain you have struck. But we are here, now, to liberate you from those agreements. We are here to tell you that you are a child of the universe and the only responsibility that you have is to your own joy.
You are not here to make yourselves worthy, or spiritual, or to have a profound and lasting impact. All of those things are natural by-products of your willingness to follow your bliss. You must recognize that life is meant to be lived. It has no particular meaning to it, but you get to decide what type of life you want to live. And so, we suggest that you begin to renegotiate the deal that you have struck in regards to your existence in this incarnation.
We suggest that you let go of any and all agreements you have made in your past. That is the only way for you to live in the moment. And in the moment, in the present, you are capable of having a profound impact on the world. But it is not through your deeds that you have this impact. It is about you caring enough about your vibration to do what is most enjoyable to you.
This does not need to be seen as a selfish way of approaching life. In fact it can be seen as quite selfless, so long as everything that you do is coming from that sense within yourself of what you are being guided towards. You will never be guided towards an act of destruction. You will never be guided towards a crime or a wrongdoing of any sort.
So we recommend that you listen to the guidance that is within you, that you follow it, and that you continue to discover how it is that you want to be in the world and what your relationship to this world is. Be flexible, be creative, and be the expressions of joy that you were always meant to be.
We are the Pleiadian High Council of Seven, and we are very fond of all of you. That is all."
Show Your Gratitude – Make a Donation
Get Clarity – Book a Session