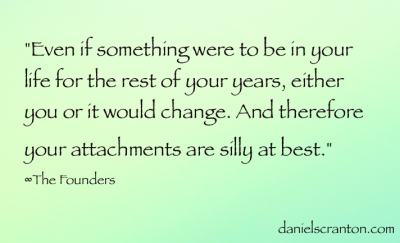 "Blessings.
By releasing your attachment to something you are not letting go of your connection to it. You are not releasing your love. You are giving yourself a new experience of that person, circumstance, or object.
Releasing attachments allows you to perceive what it is you are releasing through neutral eyes. And the process of releasing attachment frees you up for new experiences.
As long as you are telling yourself the story that you must have this thing or be in this relationship in order to be fulfilled and happy, you are setting yourself up for a great deal of misery. Nothing in your experience is permanent and everything changes.
So even if something were to be in your life for the rest of your years, either you or it would change. And therefore your attachments are silly at best, because all you can ever really have is a moment. And your attempts to recreate the same moments stunts your growth.
So by releasing an attachment you actually spur on your expansion, and you get to experience that expansion and experience it over and over. Now, you have also heard us and others talk about releasing attachments to particular outcomes and how that serves you.
We would like to add that the outcome that you are attached to more often than not is not the best outcome. So it is also silly to remain attached to something that is only a fraction of what you could be living and experiencing.
So whatever you feel attached to in this moment, let it go. Let it go energetically. Let it go mentally and emotionally. And even if it still exists in your physical environment, you will have created a better relationship to it.
We are The Founders. We are the keepers of the flame."