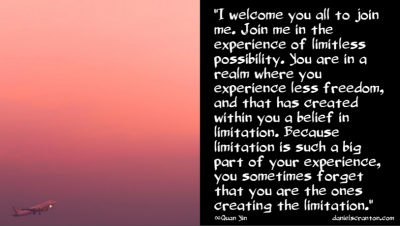 "It is I, Quan Yin.
I welcome you all to join me. Join me in the experience of limitless possibility. You are in a realm where you experience less freedom, and that has created within you a belief in limitation. Because limitation is such a big part of your experience, you sometimes forget that you are the ones creating the limitation.
You are the ones giving yourselves the experience of limitation. Once you awaken to that knowing, which you most certainly have, it then becomes a question of when. When are you going to decide that you no longer want to play the game of limitation? Most of you continue to play the game because it's all you have ever known.
So even if you can wrap your minds around the idea that you are limitless and infinite, you still come back to the knowing of yourselves as beings who exist in limitation. Your reality does not determine your perception of it, and your reality does not define who you are within it. And so while you may still experience laws in this universe, there is no law of limitation.
That is an agreement, but it is also an agreement that you are collectively deciding to release. And those of you who are willing to embrace these words, and are willing to see yourselves as limitless beings of light and Love are the ones who will pave the way for the rest of humanity. And when you do, when you begin to experience yourselves as limitless, the amount of joy you will feel will be immeasurable.
I am Quan Yin, and I hold you in my heart."
Show Your Gratitude – Make a Donation