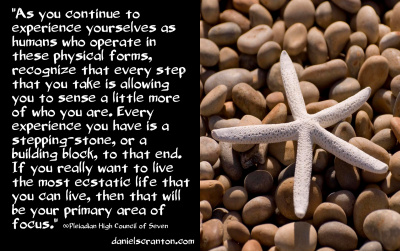 "We are the Pleiadian High Council of Seven, and we are pleased to offer you our words of wisdom.
What you can sense in any moment of time is but a fraction of who and what you really are. You can hold the frequency of your essence, but you are still only getting a taste. That which you are is quite large and is not capable of being sustained in a physical structure, such as your body.
Now we tell you this not to discourage you, not to diminish you in any way. We just want you to realize how massive you are and how much power you hold. There is no end to who and what you are. There is no limit.
So as you continue to experience yourselves as humans who operate in these physical forms, recognize that every step that you take is allowing you to sense a little more of who you are. Every experience you have is a stepping-stone, or a building block, to that end. If you really want to live the most ecstatic life that you can live, then that will be your primary area of focus as you move throughout your day.
It will certainly not be about getting things done, and it will not be about something that you can create and experience at a later date. If you really want to live the fullest possible experience and expression of that which you are, you will simply tune yourselves to the sensing that you have of your expansion. It is happening rapidly enough now for you to really get a hold on it.
You can grasp it as a concept, or you can experience it firsthand and viscerally, and that is what we are suggesting you do. Ask yourselves several times throughout the day, 'How much more light can I hold in my physical body? How much more of myself can I sense?'
And you do this not because it is necessary. You do this not because you must in order to continue to expand. Expansion happens often in spite of what it is you are doing.
We are suggesting that you do this because as you begin to sense the magnitude of who and what you are, you will attain a level of mastery over the physical that you have only dreamt of or seen in movies. This complete sensing of who you really are while still remaining physical is the name of the game, and you are all ready to experience much, much more.
We are the Pleiadian High Council of Seven, and we are very fond of all of you. That is all."
Show Your Gratitude – Make a Donation