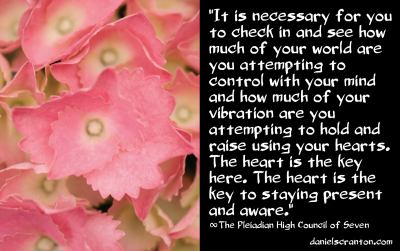 "We are the Pleiadian High Council of Seven, and we are pleased to offer you our words of wisdom.
So there are some circumstances that you have no control over, and when you recognize this, you actually free yourselves quite a bit. It is only when you attempt to control everything that you actually lose control. That is when you begin to notice that you are clenching up, that you are not allowing energy to flow, and that you are behaving in ways that cause others around you to raise a few eyebrows.
We are noticing that more and more of you as deliberate creators are attempting to control too much of your creations. You want things to be in a very specific timeframe, and you want very specific results, and then you often get down on yourselves for not getting precisely what it is that you want, when you want it, and you find fault with your abilities as conscious and deliberate creators.
So now is a very good time for you to heed our advice and let go of the need to control every little thing that occurs or does not occur in your lives. Instead, focus on the vibration that you want to be in. That is far easier for you and more relaxing, but it is also less interesting for your minds. Your minds like details, and your minds like time.
And so, it is necessary for you to check in and see how much of your world are you attempting to control with your mind and how much of your vibration are you attempting to hold and raise using your hearts. The heart is the key here. The heart is the key to staying present and aware, and it is also the key to holding the frequency of that which you desire.
So letting go of control and letting go of details, and letting go of timing is as simple as your willingness to shift from being mind-oriented to heart-oriented. We know you have heard this, time and time again. We know this is not new news for any of you, but we are asking you begin to pay closer and closer attention to which operating system you are running.
And the easiest way for you to become aware of that is by tuning yourselves to your physical bodies. Because as we have said, when you are attempting control you will clench up, and when you are letting go, you will relax. And when you feel relaxed, it is easier for you to find the frequency state, to hold it, and to be the creator beings that you were destined to be in this lifetime.
We are the Pleiadian High Council of Seven, and we are very fond of all of you. That is all."
Get Some Clarity – Book a Private Session
Show Your Gratitude – Make a Donation