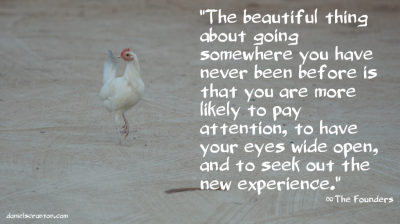 "Blessings.
By taking to yourselves to new places that you have never been before, you give yourselves new awarenesses. We are talking about geographical locations, actual physical places. You have opportunities to explore that come your way, and some of you are very happy to take those opportunities. And others of you feel more comfortable in familiar surroundings.
Now, when you do decide to take a journey to somewhere you have never been before, see it as an exploration of your own consciousness. See your outward journey as being a reflection of an inner journey. And when you do this, you will pay more attention to what is going on within you than you would if you thought it was just a trip to a physical location on your planet.
And while it is that as well, you have placed symbols, markers, signposts, and other ways of communicating to yourself in the physical location. So while you get to decide what energy you bring to your trip and to this new place you will be exploring, you also will be responding to that which you have decided will benefit you the most to see and to experience.
The beautiful thing about going somewhere you have never been before is that you are more likely to pay attention, to have your eyes wide open, and to seek out the new experience. You are more likely to experience yourselves differently because you will have given yourselves the freedom to be who you want to be in the moment, rather than to be who you are expected to be.
So take the opportunities for travel, for journeys, for adventures of any kind, and see the opportunity as being one that will give you more insight to who you really are.
We are The Founders. We are the keepers of the flame."