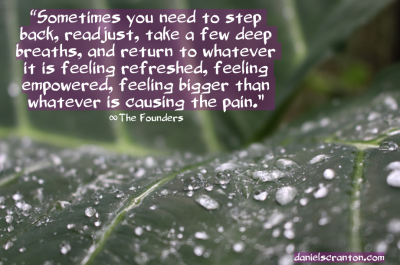 "By letting yourselves take a break, you interrupt the flow of whatever it is that is causing you to need a break from it. So there is a difference between taking a break and running away. And here is how you can tell the difference. When you are taking a break from something that is too much for you to process in any moment, you are still acknowledging the importance of returning to that which is coming up for you.
So you see, it is all about intention. If your intention is to take a break, then you are interrupting the flow. But if your intention is to run away, then you are calling more of that which you are attempting to run away from. You are calling it forth, and it will not be ignored.
So the virtue of taking a break is that it allows you to reset. It allows you to shift your perspective so that when you turn back to it, you are able to handle the pain or the emotions that seemed too intense just a little while ago.
This process of taking a break is one that serves you. When you are too tired or too hungry or simply too overwhelmed, give yourselves a break. Tell yourselves that you can return to whatever it is that has you feeling the way that you do, and you can return to the feelings. It is not so important that you need to endure that which is painful to the point where you would run away if you could.
Sometimes you need to step back, readjust, take a few deep breaths, and return to whatever it is feeling refreshed, feeling empowered, feeling bigger than whatever is causing the pain. You know that this works because you have experienced walking away from something and returning to it later with an ability to see what you could not see before.
There are emotions that some of you would rather never feel. And we say to you that you get to decide how you feel them. You get to decide whether how you feel them is overwhelmingly intense or mild and manageable. And we suggest that you choose the route that is easier for you in every moment.
We are The Founders. We are the keepers of the flame."