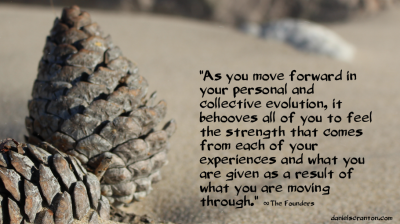 "Blessings. We would love to share with you our perspective on your present state of being as a collective. We witness you both individually and as a unit, a collective consciousness. And we see that there is much movement happening at this time.
This time in particular is filled with possibilities for humanity. You have the opportunity as a collective to take strides towards energy that is clean and free, peace among nations, and equality among all individuals. These steps that you are taking are being drawn out a bit by what each of you is experiencing in your personal lives.
You will always have experiences that are personal to you that reflect what is going on in the world around you. And so, we witness many of you resolving conflicts within yourselves, finding peace, and seeking to experience your own power, and seeing others as equally powerful to you.
As you move forward in your personal and collective evolution, it behooves all of you to feel the strength that comes from each of your experiences and what you are given as a result of what you are moving through. You are not having your personal struggles and conflicts just because there is karma or just because you are looking for resolution.
You are having these flare ups, if you will, so that you may build from them, so that you may witness yourselves growing as individuals, and so that each and every one of you can experience the serenity of facing a challenge and knowing your own strength.
When you experience yourselves as strong and powerful beings who are capable of facing these challenges, that is when the changes in your world will begin to manifest on a larger scale. That is when you will experience peace and harmony and your collective will playing out for everyone to enjoy.
We are The Founders. We are the keepers of the flame."