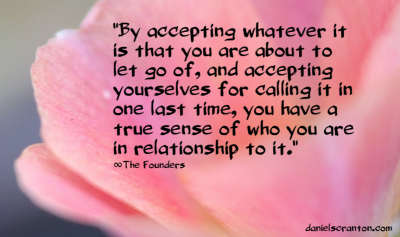 "Blessings.
Whenever there is something that you are in the process of letting go of, you tend to call it in for one last round. And this is important for all of you to know, because when you think that you are backsliding or regressing you are actually giving yourselves one last turn, one last go-round.
By accepting whatever it is that you are about to let go of, and accepting yourselves for calling it in one last time, you have a true sense of who you are in relationship to it. You only need to continue to recreate scenarios for yourselves when there is a judgment about having that experience in the first place.
When you see yourselves as inappropriate, bad, or lacking the power to create that which it is that you want, you are simply asking for one last go-round with whatever it is. Just to be clear now, we are talking about all of the challenges that any of you might be facing, whether they be financial, health, relationships, or even spiritual crises.
Whenever something shows up at your door and you sigh and say, 'Not you again!,' you are maintaining the same relationship to it. But when you are capable of embracing those challenges and releasing your judgment for having created it yet again, that is when you can co-exist with it and finally let it go.
That is when you get to choose something new, something more to your liking. And we know that all of you are seeking changes and new experiences. We just want to let you know that when the same old, same old comes up yet again, it is because you are ready for those changes you seek.
We are The Founders. We are the keepers of the flame."