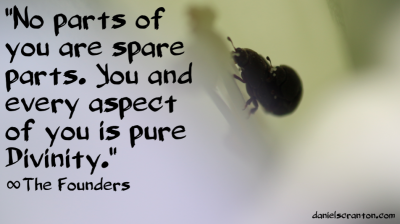 "Blessings.
Portioning off your consciousness into segments, or aspects, gives you the opportunity to experience a multitude of perspectives. Bringing all of those aspects back together to give yourself the experience of being whole and complete will necessitate that you accept each perspective as it is.
Therefore, you must make peace with perspectives that you may not want to hold yourself. Just recognize that if someone else is stating their perspective, and you are aware of that perspective, then it must be a reflection of some aspect of your consciousness.
This is why it never serves you to argue with another person to try to prove the rightness of your perspective. Because when you do so, you are just arguing with yourself. And when you do that, you are not welcoming that aspect of your consciousness back home where it belongs.
The total you, the whole you, sees all perspectives as not only valid, but necessary, to give you the experience of life that you desire. You are not here just to explore and determine what is right so that you can only experience that. You are here to experience all of it and to accept all of it so that the whole you can then choose which aspect to activate.
And as you do this, you allow all other aspects to coexist side-by-side. No parts of you are spare parts. You and every aspect of you is pure Divinity. The sooner you decide to accept that, the sooner you can choose to experience life as the being that you truly are.
We are The Founders. We are the keepers of the flame."