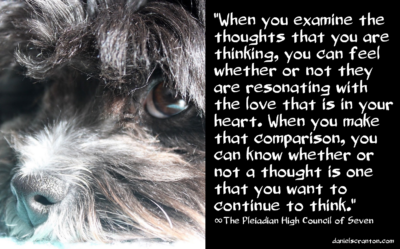 "We are the Pleiadian High Council of Seven, and we are pleased to offer you our words of wisdom.
When you examine the thoughts that you are thinking, you can feel whether or not they are resonating with the love that is in your heart. When you make that comparison, you can know whether or not a thought is one that you want to continue to think. So when you find yourself in a particular mode of thinking, a particular train of thought, let your awareness of the thought bring you back 'round to checking in with the love that is in your heart.
See whether or not the two are matching up, because anything that falls short of the love that is in your heart is not something you need to continue to work with. In other words, you can let it go. You can let go of any thought that is not a match to the love that exists within you, and you can thank the thought for making you aware that the love that you are still exists, even in the face of a thought that does not harmonize with that love.
So many thoughts are floating around, wanting your attention, and knocking on the door of your consciousness that it can be challenging for you to ignore them or to let them go. But your hearts are powerful, and the love that you are is creative. Therefore, you are far more powerful and creative when you come from your heart than you are when you stay locked in your mental process.
Use the thoughts that do harmonize with the love that you are to affirm that which you feel, to express that which you are. And we suggest that you let go of any thought that is not supportive of the love that you are and that is not an expression of your joy, your appreciation, or your excitement for the beautiful lives that you are living.
As you rise above those lower-frequency thoughts, bless them, and embrace the knowing that you have that you are far more than any thought that you could ever think.
We are the Pleiadian High Council of Seven, and we are very fond of all of you. That is all."
Get Some Clarity – Book a Private Session
Spread Your Abundance Around – Make a Donation