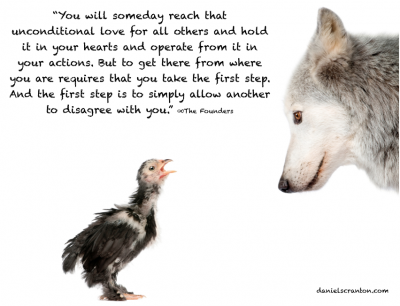 "When each of you is willing to respect every other and their right to have a perspective that differs from your own, you will see an end to conflict on a massive scale. You see, you do not even have to reach a place where you all love each other unconditionally to put an end to armed conflict on a massive scale.
If you would only recognize that the perspective of another is as valid as your own, and that their having that perspective does not threaten your own, you would be able to coexist with others in the same world who had very different perspectives without even needing to engage in an argument. You will find that this is where you are all headed, so you might as well start small.
You might as well start by allowing everyone in your life to hold their perspective and allow their perspectives to be as different from yours as black is from white. And if you can acknowledge that your world is actually a better place because of the diversity of perspectives on it, that will be yet another step forward for humanity, because you will someday reach that unconditional love for all others and hold it in your hearts and operate from it in your actions.
But to get there from where you are requires that you take the first step. And the first step is to simply allow another to disagree with you and to let go of any need to prove your point or to demonstrate why yours is the perspective that is more valid. We choose to offer you all our perspective, and we invite you to take it or leave it. And we do so from a place of unconditional love.
We are The Founders. We are the keepers of the flame."