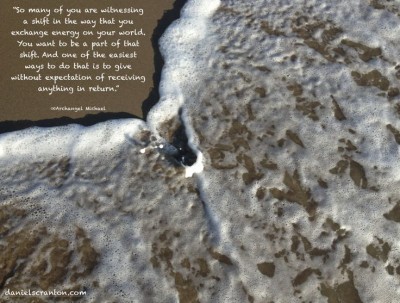 "To give and release all expectation for gratitude or reciprocation is one of the many ways you have of knowing yourselves as Source Energy. Giving places value upon not only that which is given, but also upon the person who receives. When you give the gift, you give another a sense that they are worthy, that they matter, and that they are loved.
Truly, there is no greater way of knowing yourselves as abundant than to give something that you have that feels valuable to you. Make no mistake about it – the real gift that you have to give is that of your true essence. But sometimes you have the opportunity to give something physical, something that another could use. And that is wonderful as well.
By letting another give to you, you also give a gift. You give the gift of receiving and allowing the other to feel their benevolence and abundance. You often come to a place in your lives where you have more than enough, and you are presented with the opportunity to either cling to what you have or to give some of it away. We are not telling you that you must give. Because if you are not feeling abundant, then giving what you have only amplifies that feeling.
So many of you are witnessing a shift in the way that you exchange energy on your world. You want to be a part of that shift. And one of the easiest ways to do that is to give without expectation of receiving anything in return. That is much more effective than any demonstration you could partake in that is designed to point out the corruption or greed that is prevalent on your world. Be the change. Show others that there is another way.
We are Michael. We are infinite. We are Love."