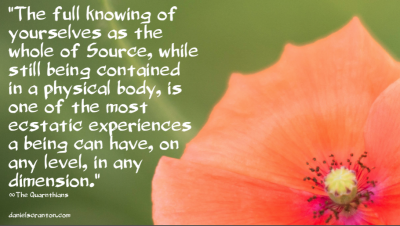 "Behold. This is our latest transmission.
As the portioning off of consciousness takes place, there is a part of the whole that remains intact with each portion. When the opening of your consciousness to higher frequencies takes place, you are giving yourselves more of the experience of that wholeness that exists within every single one of us. So this is a necessary aspect of the shift.
It is not just about knowing yourselves as fifth dimensional beings. It is about returning home to that awareness that you are so much more than individuals existing in a dimension, on a planet, at a particular time. And that wisdom, that knowing, is something you can carry with you, even as you pretend to be an individual with a physical body, experiencing the limitations of any dimension.
The process of holding that awareness within you is one that you open to gradually, little by little, and that is what makes it so enjoyable. It is much more enjoyable to savor each bite of a piece of food than to receive your nutritional needs intravenously. And that is what you have all given yourselves the opportunity to experience.
The full knowing of yourselves as the whole of Source, while still being contained in a physical body, is one of the most ecstatic experiences a being can have, on any level, in any dimension. It is time to recognize that this is not just something you are moving towards. This is an experience that you are able to have, right here and right now.
So even though you are experiencing some limitations, you can still have the experience of knowing that the whole of Source is contained within. And the expression of that knowing is what gives your lives depth and meaning. It is at the heart of every joyous experience.
We are the Quarnthians, and this is goodbye for now."