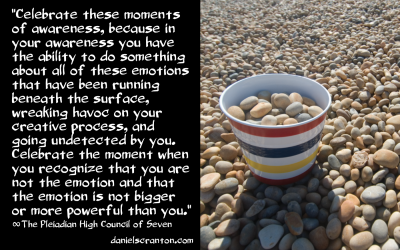 "We are the Pleiadian High Council of Seven, and we are pleased to offer you our words of wisdom.
So as you continue along on this journey, you are going to find that there will be times when you want to throw up your hands and say, 'enough!' You will want to give up. You will want to let go. And you will not want to continue having the experiences that you have, where you get triggered emotionally, or where you feel pain physically.
These moments of giving up are actually a passageway that you can use to take you to a heightened sense of awareness. What many of you have yet to realize is that awareness is a tremendous gift. Just consider all of the lifetimes you have lived where you had zero awareness. You did not feel, and you certainly did not understand what you do now.
And now that you are awake, and all of the feelings have come flooding to the surface, you want to run and you want to hide. And we say to you that there is nowhere else to go. So we want to invite you to take pride in your awareness. We want you to celebrate the moments that you experience of abject fear, sadness that borders on despair, and anger that is a hair trigger away from rage.
Celebrate these moments of awareness, because in your awareness you have the ability to do something about all of these emotions that have been running beneath the surface, wreaking havoc on your creative process, and going undetected by you. Celebrate the moment when you recognize that you are not the emotion and that the emotion is not bigger or more powerful than you.
When you recognize that the emotion is something that you experience, and that every experience you have serves you and makes you stronger, that is when you know you have transcended the need to be triggered any longer.
We are the Pleiadian High Council of Seven, and we are very fond of all of you. That is all."
Get Some Clarity – Book a Private Session
Show Your Gratitude – Make a Donation