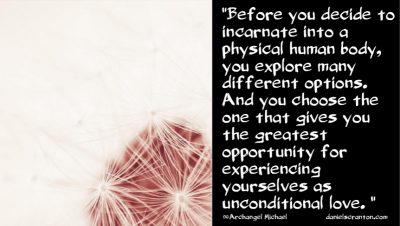 "Welcome. We are here to serve and assist you.
Before you decide to incarnate into a physical human body, you explore many different options. And you choose the one that gives you the greatest opportunity for experiencing yourselves as unconditional love. That may mean that you incarnate into a very challenging situation, and it may also mean that you create challenging situations for yourselves as you move through the lifetime.
Without those challenges, you would not fully understand what it means to be unconditional love. So it is important for you to look around at your lives and to see where those opportunities are.
For many of you, the unconditional love that you seek to know yourselves as requires you to accept who you are and what you have done. All of you have created situations that would require you to forgive another person in order to then experience yourselves as unconditional love.
The greatest example that you have of unconditional love on your world is with your pets. They love you unconditionally. And so, you often decide to travel from lifetime to lifetime with a pet, or several pets, that will incarnate with you to remind you of the unconditional love that you are.
You also have planet Earth herself, although it is more challenging for you to see, and feel, and recognize that love, because it is so easy for you to take the Earth for granted and to not even acknowledge all of the gifts that she gives you every day. So before you set out to know yourselves as unconditional love, and to give unconditional love to yourselves and others, tune yourselves to the planet and the animals and learn from them what it is like to hold that frequency all the time.
We are Michael. We are infinite. We are Love."