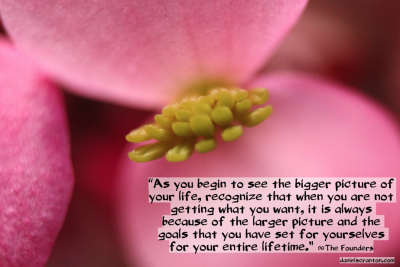 "Often you seek to make sense of what has occurred in your lives. You seek to gain from an experience that you have had. This is something that we have encouraged you to do. And we also want to encourage you to look beyond the ways in which something could be serving your current desires.
And instead, see everything that occurs as being part of a much larger plan for you. So you have your plans for your life, and they may involve finding a mate, finding satisfying work, and living in a nice home. And these are all wonderful things to want for yourselves.
As you begin to see the bigger picture of your life, recognize that when you are not getting what you want, it is always because of the larger picture and the goals that you have set for yourselves for your entire lifetime and existence in human form. Take into consideration that your desires are usually there to get you to move in a particular direction. They are the prototypical carrot at the end of a stick.
Whether or not those desires are fulfilled and realized in the timeframe that you have decided is most appropriate is determined by how much closer you get to satisfying the larger goal that you have for yourself in this lifetime. So sometimes it is necessary for you to step back and see the bigger picture and know that you are the prize you are seeking.
Your development into a being of love and light who also exists in a physical body is far more significant than your finding yourself living in your dream home. So whenever something that you desire in the physical is not coming to you as quickly as you would like it, make sure you take the bigger picture into account. Make sure you see it as an opportunity for growth.
And once and for all, do let go of the idea that if something is not manifesting in your life it means that there is something wrong with you. There is only that which is right with you and your acknowledgement of it.
We are The Founders. We are the keepers of the flame."