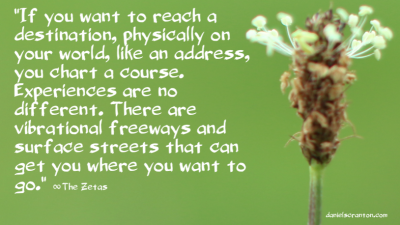 "Vibrations are markers. They are destination points. You can see where certain experiences lie when you can observe the points, as if you are looking at a map. We plot a course, and we understand how to chart that course, vibrationally.
We are experts at it, in fact. One of the ways in which our presence here will serve humanity is that we have become experts at what you are just now beginning to learn. If you want to reach a destination, physically on your world, like an address, you chart a course.
Experiences are no different. There are vibrational freeways and surface streets that can get you where you want to go. Your ability to discern and interpret those vibrations is coming online. It is being activated. You are being activated so that you may plot the courses that you want to take.
These are not necessarily linear, but that makes it all the more fun to enjoy the ride. Placing your attention on the destination will help you to feel out the course, and you can maneuver intuitively to each point along the way.
All that is necessary, really, is for you to believe that the way to get from where you are to where you want to go is by using vibration to chart your course and to guide you. So tune yourselves to the vibration of your destination, and let your actions come from your intuitive knowing of what to do next.
We are the Zetas, and we are your brothers and sisters."