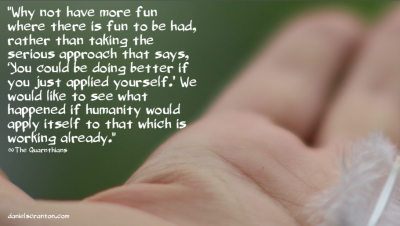 "Behold. This is our latest transmission.
We are eager to share with you our observations. There is a method that you all use for determining whether something is worthy of your attention. It is your experience of it. You take your experience of something and you measure that against how it is you want to experience it. And if it does not match your desired experience, then it gets more of your attention.
So let us say you have a relationship with another person, of a romantic nature, and let us say that things are not going well from your perspective. Then you are more likely to give the relationship and your partner more of your attention. If everything is going swimmingly, you are more likely to ignore the relationship or the partner and put your attention on something else, something that you believe needs your attention. Let us use your work, as an example.
So you tend to give more of your attention to that which is not measuring up. You like problems because problems keep you busy. They give you something to do, something to focus on. What if everything in your life was going according to plan, measuring up to the standards you had set for it? What then? What would you do with yourselves if you had no problems to tackle? Would you get bored? Would you lose interest in your partner?
These are important questions to ponder, because you believe that you all want a perfect life with peace and harmony. But would that perfect life be worthy then of your attention, or would you get bored? We ask you to consider this and to examine where you are placing the majority of your attention. Why not give your attention to that which is measuring up?
Why not have more fun where there is fun to be had, rather than taking the serious approach that says, 'You could be doing better if you just applied yourself.' We would like to see what happened if humanity would apply itself to that which is working already. We would like to see what would happen if all of you celebrated your accomplishments more and focused on how far you have yet to go less.
We are the Quarnthians, and this is goodbye for now."