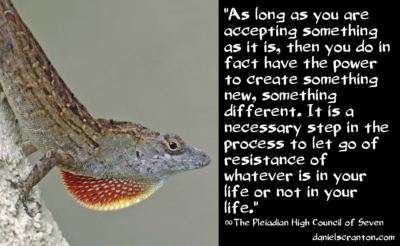 "We are the Pleiadian High Council of Seven, and we are pleased to offer you our words of wisdom.
As long as you are accepting something as it is, then you do in fact have the power to create something new, something different. It is a necessary step in the process to let go of resistance of whatever is in your life or not in your life. This tendency on the part of humans to get irritated and agitated into a creative process is not serving you very well at all. Of course that is part of the process, but it is not where you want to begin getting your hands in the clay.
You want to get past your irritation and agitation so that you can get to that point of acceptance, so that you can let it go, let it be. And then take what you learn from the experience of it to create something else, something more to your liking. So everything is assisting you in developing your preferences. Everything is helping you launch yourselves into your creative process.
You just want to make sure you're not going from point A directly to point Z without first giving yourselves the opportunity to fully experience and explore what point A has brought you. In this example, point A is a circumstance that you do not prefer.
It is highly unlikely that you will be able to create something that is more to your liking from that state of being that is your initial reaction to the unwanted circumstance. But we understand that many of you get impatient. We understand that you hear about conscious, deliberate creation, and then you feel frustrated because you're not able to do it right in the instant that you access your desire for something else.
We encourage you to also sit with the desire. Let the desire build energy within you. Let it percolate. Let it give you more of a boost than it would be possible for you to receive if you just went directly to the circumstance that you want to manifest. So how do you get to that point of acceptance from irritation and agitation? That is a very good question. There is not one right way to do it.
Eventually, the circumstance will break you down if you continue to resist it. It will be impossible for you to hold on to that resistance. But if instead you remind yourself that whatever is before you is meant to be accepted and is giving you a gift, then you will have a much easier time, then you will cease to even see it as an obstacle. And that is when the creativity that it inspires within you will be rich and will breathe life into you.
We are the Pleiadian High Council of Seven, and we are very fond of all of you. That is all."
Get Some Clarity – Book a Private Session
Show Your Gratitude – Make a Donation