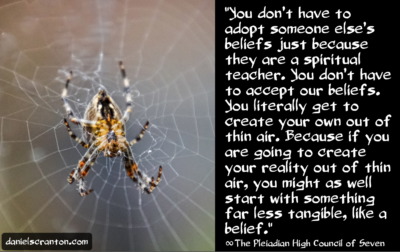 "We are the Pleiadian High Council of Seven, and we are pleased to offer you our words of wisdom.
Forgetting everything that you thought you knew about reality is not going to happen overnight. It's going to be a process. It is your process of evolution to restructure your own paradigm about reality. The beliefs that you have held for all of your lives are now up for renegotiation. Some of them are simply crumbling and falling to your feet.
So that means it's time for you to allow new belief systems to take hold. That means you get to decide what you believe in and what you believe is true, rather than just accepting what it is that you are fed by outside sources. Now, as you do this, as you let of the old belief systems and you usher in your new paradigm for relating to reality, you are giving yourselves an opportunity to start fresh.
You don't have to adopt someone else's beliefs just because they are a spiritual teacher. You don't have to accept our beliefs. You literally get to create your own out of thin air. Because if you are going to create your reality out of thin air, you might as well start with something far less tangible, like a belief.
The most important thing that you could believe in from our perspective, and again you don't have to listen to us, is to believe in yourselves. Believe in who you are and who you can be. Taking away nothing from anyone else, you can create an experience for yourselves that will blow your third-dimensional minds.
And this is the framework for how this new fifth dimension is being constructed. It is being constructed from the ground up. You have given yourselves full creative control, and you don't have to believe in anyone else's fifth dimensional reality. You can choose to simply believe in your own and to create your own version of the fifth dimension.
But you always start by creating the version of yourself that you most resonate with, that you always wanted to be. This is a glorious time to be a conscious creator being. This is a glorious time to be you. So embrace yourselves and let go of all the beliefs that got you to where you are today.
We are the Pleiadian High Council of Seven, and we are very fond of all of you. That is all."
Get Some Clarity – Book a Private Session
Show Your Gratitude – Make a Donation