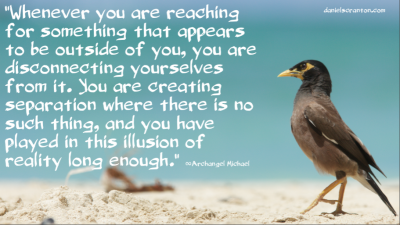 "Welcome. We are here to serve and assist you.
All access is granted to each of you in the moment that you recognize that there is nothing outside of you. Whenever you are reaching for something that appears to be outside of you, you are disconnecting yourselves from it. You are creating separation where there is no such thing, and you have played in this illusion of reality long enough.
It is time for each of you to recognize that you are not just connected to every other being in this universe and all others. But you are also contained within each of those beings, and each of those beings is contained within you. So you need not reach out to connect with another being. All you need to do is reach within you.
And that is far easier for you to conceptualize, for if you were to reach outside of yourselves for beings such as us, how would you know where to put your attention? How would you know where we were and how to find us? But if instead you were to reach within you, then you would have a much more manageable space in which to search.
If we were to ask each of you right now to feel for us inside your bodies, where do you think you would find us? Now, can you acknowledge that what you feel inside of you is as real as anything that you can see, and touch, and interact with outside of your physical body? When you can acknowledge this, then you can begin to have more of those experiences with other beings outside of your physical body. And won't that be fun?
We are Michael. We are infinite. We are Love."