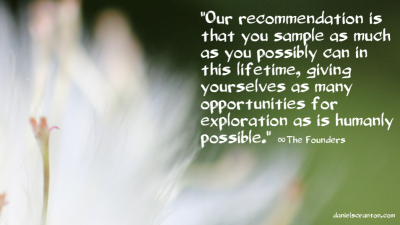 "Blessings.
By choosing one path over another, you are giving yourselves an opportunity for exploration and that is all you are doing. You are not making a right choice or a wrong choice by choosing a particular path. In fact, as you choose any path whatsoever, you give your Oversoul what it seeks most, which is experience.
So making any choice will be supported, and you have our guarantee that no matter what choice you make and no matter what path you follow you will always be led back to yourself. So there is not one right path for you that you must diligently work to discover and then use all of your will power to remain on.
You are explorers, and this is one giant adventure. So every path contains within it the opportunities that you seek. You will always discover more about who you are as you traverse down a particular avenue. Our recommendation is that you sample as much as you possibly can in this lifetime, giving yourselves as many opportunities for exploration as is humanly possible.
Give up on the idea that you are here to get it right or that you are here to do one thing, over and over, to perfection. There is certainly nothing wrong with choosing one path and staying on it and perfecting something. But if you think that is the ultimate human experience and that you are somehow falling short by not having found that one true path, then you are making things more challenging than they need to be.
Always give yourselves as many opportunities for experience as you can, for there is nothing that you can do to separate yourself from your Source or to lead you so far astray that you could never come home to who you are. All paths lead to you. Sorry for not giving you the 'spoiler alert' on that one.
We are The Founders. We are the keepers of the flame."