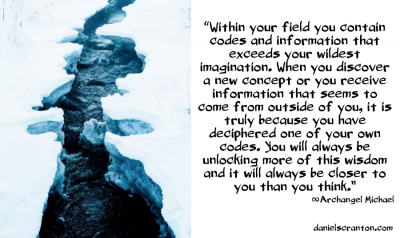 "Within your field you contain codes and information that exceeds your wildest imagination. When you discover a new concept or you receive information that seems to come from outside of you, it is truly because you have deciphered one of your own codes. You will always be unlocking more of this wisdom and it will always be closer to you than you think.
There is no need for you ever to try or to strain yourselves to get what you need. It is always a falling into place that occurs. So give yourselves more relaxation time, especially when there is something that you want or that you are trying to figure out but cannot for the life of you get.
We encourage you to have the approach that you are allowing something that is natural to occur because there is a tendency in you, upon hearing this information, to put your energy towards deciphering the codes and unlocking the information. It is not something that you will consciously do, but it is something that happens when you rest and relax your consciousness.
That is why so much is able to be deciphered from your dreams and when you are most tired. We give you this so that you will know that there is so much more available to you and that it does not have to come from the higher realms. You are awakening, and when you awaken you naturally see, and feel, and hear, and know more.
We are Michael. We are infinite. We are love."
Show Your Gratitude – Make a Donation