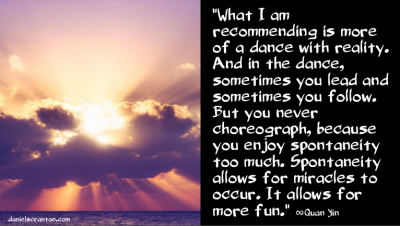 "It is I, Quan Yin.
When you expect something to happen, you create a relationship with that occurrence. You put yourself in relationship to whether it happens or not. Then you have a process of unlocking the gateway to that which you expect, and this is your way of giving yourselves not only what you expect but what you want.
This is your strategy, your game plan. But what if you were to shift to a new strategy? What if you were to see expectations as limitations and instead open yourselves up to the infinite possibilities that exist in your now moment? What if you were to get less concrete and more fluid with your reality?
I think you would have more fun. I think that you would be wonderfully surprised by what you can create when you have no expectations. What I am recommending is more of a dance with reality. And in the dance, sometimes you lead and sometimes you follow. But you never choreograph, because you enjoy spontaneity too much. Spontaneity allows for miracles to occur. It allows for more fun.
So let go of your need to create with precision. And instead, let a new approach in to your awareness. Let yourselves experience what it is like to be limitless, to be engaged with energy. And bring your consciousness into a state of fluidity. You do this when you dream. And what I am suggesting is that you bring that consciousness to your waking state, so that you can bring more energy forth and create from nothingness miraculous wonders that will thrill and excite you.
I am Quan Yin, and I hold you in my heart."
https://danielscranton.com/donate