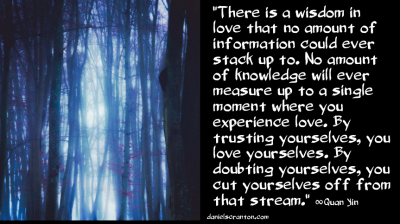 "It is I, Quan Yin.
Wisdom comes from within you. Wisdom is discovering your own truth. Wisdom will not be found by looking outside of yourself for answers. That is why the most important thing that any of you could ever do is to trust yourselves. Trust your wisdom. Trust the wisdom of your bodies. Trust the wisdom of your emotions.
Trust that you know precisely what is most important for you to know in every moment, and look to your hearts for wisdom. Rather than thinking things through, process them through your hearts. Give your hearts the opportunity to shine and to show what you are actually made of.
There is a wisdom in love that no amount of information could ever stack up to. No amount of knowledge will ever measure up to a single moment where you experience love. By trusting yourselves, you love yourselves. By doubting yourselves, you cut yourselves off from that stream, the stream of self-love, the stream of energy that comes from the Source of all.
That is why I believe that it is more important for you to look within yourselves for that which resonates than to look for confirmation from an outside source. If you want to check for the accuracy of something, continue to go back within yourself.
Discover the truth of who you are and recognize that all other truths are irrelevant in the face of the one truth that truly matters – you are Love incarnate, and you are here to experience yourselves as that Love. Nothing short of that will ever truly satisfy you.
I am Quan Yin, and I hold you in my heart."