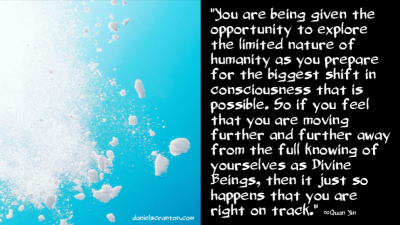 "It is I, Quan Yin.
So as you are making your way into the higher frequencies, you are also placing yourselves in the perfect position to understand your true nature. You have been denying yourselves the truth of who you are in many elaborate ways, but there is no stopping the revelation of the truth to yourselves.
The truth I am speaking of is that you are Divine Beings, exploring time and space in physical form. In the revelation of this truth, it is necessary for you to see and experience its opposite in as many ways as possible. It is as if you are giving yourselves one last go 'round as mortals.
You are being given the opportunity to explore the limited nature of humanity as you prepare for the biggest shift in consciousness that is possible. So if you feel that you are moving further and further away from the full knowing of yourselves as Divine Beings, then it just so happens that you are right on track.
It is necessary for you to explore all aspects of limitation and separation in order to make the transition, in order to know yourselves fully. So I suggest that you embrace your humanity and that you get a taste of limitation one last time, while also holding the knowing in your consciousness that this experience is temporary, as your unlimited Divine Nature blossoms within you and becomes fully embedded into the knowing of who you are.
I am Quan Yin, and I hold you in my heart."
Show Your Gratitude – Make a Donation