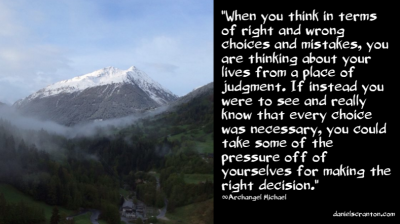 "Welcome. We are here to serve and assist you.
In your progression through your lifetimes, you are giving yourselves similar choices so that you can see what each choice you make results in. So you may choose option A in one lifetime, option B in another lifetime, and so on.
When you think in terms of right and wrong choices and mistakes, you are thinking about your lives from a place of judgment. If instead you were to see and really know that every choice was necessary, you could take some of the pressure off of yourselves for making the right decision this time around.
You talk about learning from your mistakes. And when you do so, you seem to imply that the purpose of making the mistake was so that you would know not to make it again. But if instead the mistake was giving you an experience that you could not otherwise have, could you not see it as the right action to take?
All of these various choices from your succession of incarnations allows you to have a fuller experience of who you are. So if you actually saw that as the purpose of your life, you would know that everything that you do or do not do serves you very well. And when you draw from all of these experiences and all of the emotions that you have felt, you bring yourselves to a place where you recognize the Divinity in all choices and in all beings who are making those choices.
And that recognition will allow you to release judgment, to live and let live, and to make your own choices fearlessly and without hesitation. That is truly how you live in the present moment with all of your power behind you.
We are Michael. We are infinite. We are Love."