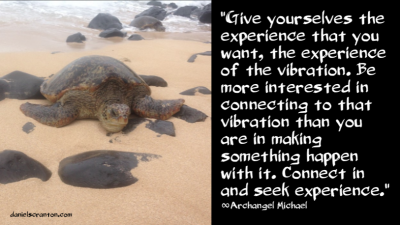 "Welcome. We are here to serve and assist you.
In your process of creation, you often put the emphasis on what it is you would like to create because you feel that you know precisely what it is that you want. And you believe that you know how it is you will then experience and respond to that which you have created.
What we recommend, instead, is that you look to create experience and let the form come to you in whatever way it will. Perhaps you will not even need form in order to have the experience you want to have.
So give yourselves the experience that you want, the experience of the vibration. Be more interested in connecting to that vibration than you are in making something happen with it. Connect in and seek experience, and the form will often be something you did not expect and perhaps even something that you could not possibly imagine.
When you are focusing your consciousness on the experience you want to have, pay particular attention to where in your body you are having the experience that you desire. It will become easier and easier for you to access the experience simply by placing your focus on that particular area of your body.
You will be activating the vibration by merely focusing with intention, and the creating will take place as a natural by-product of your focus. And we promise you, you will enjoy that which you create in this way.
We are Michael. We are infinite. We are Love."