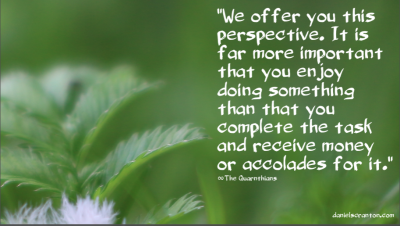 "Behold. This is our latest transmission.
Because it is most appropriate for you to enjoy your lives, we offer you this perspective. It is far more important that you enjoy doing something than that you complete the task and receive money or accolades for it. Why is it more important that you enjoy something? What is the point of the enjoyment if there is not recognition?
We will tell you. The enjoyment of something is the whole reason for it to even exist as a possibility. Without your ability to decide whether to do something that you will enjoy or to do something that you are feeling obligated to do, your world would be in an even bigger state of chaos.
But enough of you are following your bliss and doing that which is joyous to keep the energies in balance. When you consider that everyone has a preference, and you recognize that many of those preferences are different because all of you are unique, then you can see how wonderfully orchestrated your world actually is.
But what about those tasks, you might wonder, that absolutely no one wants to do? We promise you that someone can create a way for your technology to take care of all of those sorts of things. So then the question remains, 'Why would you do something that you did not want to do?' And the answer is easy. It is programming. You have been told that in order to be good, you must do good, you must contribute.
And we say to you that your contribution to this world could never be quantified, and it certainly could not be measured in terms of how many actions you have taken. So give yourselves a break and do something, anything, simply for the joy of doing it. And see where that takes you. We know that your lives can be more enjoyable, and we are here to help by our nudging, our prodding, our urging, and we do so with joy in our hearts.
We are the Quarnthians, and this is goodbye for now."