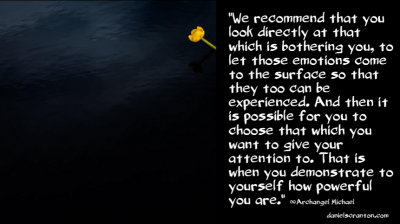 "Welcome. We are here to serve and assist you.
Placing your attention on that which is bothering you is not an act of self-sabotage. By giving attention to something that is unpleasant from your perspective, you allow yourself to access the emotions that it was always meant to trigger. And giving yourself permission to experience that unpleasant thought and those uncomfortable emotions actually removes their power.
By refusing to look at something because it is unpleasant or unwanted, you are actually giving it more power over you, because in your refusal to look at something, you are expending energy. If you spent your entire life building walls to protect yourself from that which is unpleasant or unwanted, you would have no time left to live your life.
Instead, we recommend that you look directly at that which is bothering you, to let those emotions come to the surface so that they too can be experienced. And then it is possible for you to choose that which you want to give your attention to. That is when you demonstrate to yourself how powerful you are.
If you can allow everything to be as it comes to you, and if you can push none of it away, you will actually experience more choices of what you do want, because hidden behind the bothersome, unpleasant, and unwanted experiences are everything that your heart desires.
We are Michael. We are infinite. We are Love."