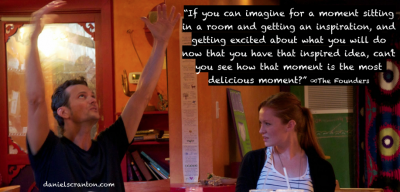 "What most excites you in your life, or even in your world, is there because you allowed yourself to be in the presence of that which excites you. You are not just discovering what excites you. You are also becoming the person that gets excited. That is as important as anything that you would do about that excitement.
It will benefit all of you to feel, and what you do once you find the feeling is much less significant than you all think. You all think that the reason you want to get the inspiration, and the impulse, and the excitement, is so that you can do something, so that you can accomplish something, so that you can be the person who does the thing that you want to do.
And we say to you that everything that stimulates that excitement within you is placed in front of you by you because you want to have the experience of the excitement and the inspiration. Some of you think that what is important in your life is what you leave behind. You want to have a legacy. You want to make an impact. And these are wonderful desires for all of you. We will not talk you out of any of them.
But if you can imagine for a moment sitting in a room and getting an inspiration, and getting excited about what you will do now that you have that inspired idea, can't you see how that moment is the most delicious moment? Let us say that your inspiration were to build a very tall building with a unique architecture. Now imagine the completion of that building, and you are standing on the ground floor, looking up at your creation.
Now compare that moment to the moment of inspiration that you felt just sitting in a room. No building. No blueprints. Nothing at all to hang your hat on. Which is the moment that you prefer? Perhaps some of you will find that the completion of the building is the more desired moment. And that is fine. We will not argue with you.
But we will say to you that most of you underestimate the value of the moment you feel the excitement for the project or the idea and you think that, 'If it never comes to fruition, then it was a waste of time.' And we say to you, 'Not from our perspective.'
We are The Founders. We are the keepers of the flame."