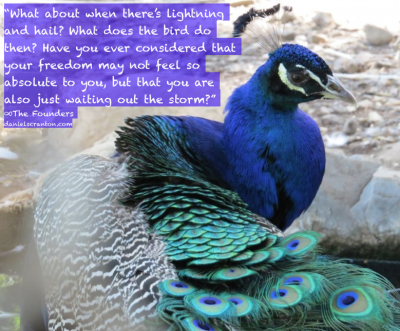 "And what is freedom? What does it mean to be truly free? Have you ever sensed the freedom of the bird in flight? There is all that sky and there seem to be no boundaries whatsoever on the bird.
But what about when it rains and snows, and what about when there's lightning and hail? What does the bird do then? Have you ever considered that your freedom may not feel so absolute to you, but that you are also just waiting out the storm?
That is how we recommend that you look at your freedom when it seems to be called into question and when you seem to be less free. If you insist on knowing your freedom even when the stormy weather very strongly suggests that you sit this one out, you will make things harder on yourself.
So take conditions into consideration and know that all storms are temporary. You may feel that your sense of freedom has been on hold a little too long, but it all depends upon your perspective. The one who sits and watches every drop of rain feels less free than the one who takes that time out of the sky to become more of who they are.
You want to bring more of who you are to your next flight, and that may mean feeling less than free to do whatever you want but still knowing your freedom. Because if you can feel it, you can be it, and if you can be it, you can have it. Patience is all.
We are The Founders. We are the keepers of the flame."