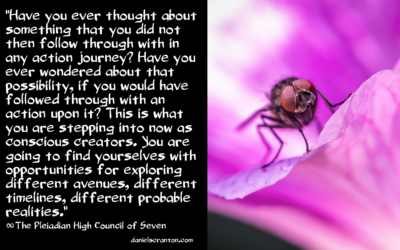 "We are the Pleiadian High Council of Seven, and we are pleased to offer you our words of wisdom.
Have you ever thought about something that you did not then follow through with in any action journey? Have you ever wondered about that possibility, if you would have followed through with an action upon it? This is what you are stepping into now as conscious creators. You are going to find yourselves with opportunities for exploring different avenues, different timelines, different probable realities.
And when you do, you will actually send a portion of your consciousness down that particular route. You will then gain the knowledge that you would have obtained from taking the action journey, and you will bring it back to yourself in the present moment without having taken a single action at all. This is, in a sense, how you will begin to explore time travel, and also how you will begin to bi-locate and multi-locate.
Some of you do this already, consciously, others do it subconsciously, but what we are telling you now that it will be a skill that you will perfect in the same way that you have perfected other skills in your lives up until this point. It will be very similar to learning how to do something like play an instrument or drive a car, and it's no more complicated than either of those things. Your ability to navigate backwards and forwards down these various timelines is one that you are activating, and it is one that you have been activating for quite some time.
Now, the purpose of any exploration is to gain insight so that you may make better decisions for yourselves. But in this case, you don't have to make a decision to move in any particular direction at all. You can simply gain the insight from moving your consciousness down a particular timeline, and you don't have to do anything about it.
You will enjoy the experience. You will enjoy having the insight for when you are ready to take some future action, and sometimes you will not even want to utilize this skill because it is very interesting and fun for all of you to be surprised. But you will enjoy having a tool like this at your disposal, and you will create new experiences that could not be had otherwise.
You may wish to begin practicing now, stretching your ability to do this, because as we have said it is something that is available to you now. And it is a skill that you will spend quite a bit of your time learning to master.
We are the Pleiadian High Council of Seven, and we are very fond of all of you. That is all."
Get Some Clarity – Book a Private Session
Show Your Gratitude – Make a Donation