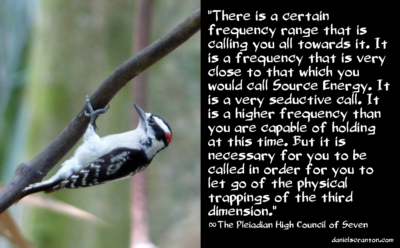 "We are the Pleiadian High Council of Seven, and we are pleased to offer you our words of wisdom.
There is a certain frequency range that is calling you all towards it. It is a frequency that is very close to that which you would call Source Energy. It is a very seductive call. It is a higher frequency than you are capable of holding at this time. But it is necessary for you to be called in order for you to let go of the physical trappings of the third dimension.
You are answering the call. Some of you are going more willingly than others, of course. That is what you are witnessing as you see those struggling to hold on to that which no longer serves them, but it is all that they have ever known. And so it is to be expected that they would cling to that which is familiar, to that which is comforting.
Those of you who can feel the call and are answering the call are living lives that would seem quite unnerving to the ones who are not. As you recognize that those who are holding on have never been taught to tune in to their feelings, it is much easier for you to have compassion for them. It is also easy for you to then understand how they can do the things that they do.
When one is not attuned to their own emotions, they are less likely to care about how others around them feel. So those of you who are awakened are sensitive and emotional beings, and you are far more likely to be empathetic. And as you feel the call of Source Energy beckoning you back to the light, you have your own sensitivity to thank for your ability to find your way there.
As energy-sensitive, emotional beings, however, you will also feel the bumps along the road. And it is your willingness to feel these bumps and to take your lumps that will enable you to navigate through the higher-frequency energies. And so if you are in pain, if you are feeling emotions that you don't want to feel, then you are closer to existing as a fifth-dimensional being than you think.
We are the Pleiadian High Council of Seven, and we are very fond of all of you. That is all."
Get Some Clarity – Book a Private Session
Show Your Gratitude – Make a Donation