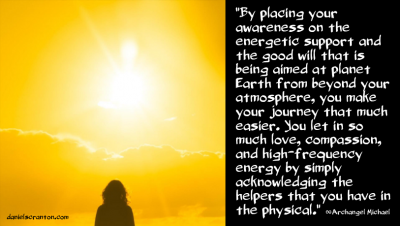 "Welcome. We are here to serve and assist you.
Taking into consideration that you are not alone in the universe, imagine how much you are supported in your journey. There is quite a bit of attention being given to planet Earth, and all beings in your galaxy and beyond, stand to gain from your evolution.
You are all linked to one another. So just as planetary movement affects you on your world, so does the activity of humanity affect beings on other worlds. You are all connected, and that is much more than just a feel-good statement. You are literally connected, and the amount of good will, the amount of energetic support being sent to humanity far outweighs any of the mal intent.
And even those who think that they stand to gain something by keeping humanity small are actually served by your ascension, because of that connection. Because when you do it, they will have the instruction manual automatically downloaded into their consciousness.
By placing your awareness on the energetic support and the good will that is being aimed at planet Earth from beyond your atmosphere, you make your journey that much easier. You let in so much love, compassion, and high-frequency energy by simply acknowledging the helpers that you have in the physical.
They are your cohorts. They are co-creators with you. And just as we in the angelic are seeking to serve and assist you, so are the vast majority of your extra-terrestrial brothers and sisters.
We are Michael. We are infinite. We are Love."