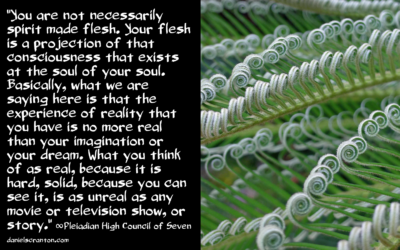 "We are the Pleiadian High Council of Seven, and we are pleased to offer you our words of wisdom.
This is a transmission that is meant for every single one of you, no matter where you are, no matter what you believe is true for you. This transmission is about the fabric of your being-ness, what you refer to as your soul or oversoul. This substance that you are comprised of is pure and has no real way of expressing itself in a physical reality.
You are not necessarily spirit made flesh. Your flesh is a projection of that consciousness that exists at the soul of your soul. Basically, what we are saying here is that the experience of reality that you have is no more real than your imagination or your dream. What you think of as real, because it is hard, solid, because you can see it, is as unreal as any movie or television show, or story.
The fabric of your existence is so pure that itself, being what it is, could never harm another and could never be harmed by another. And yet, the projections certainly can have that experience. And this gives the fabric of who and what you really are a way of knowing itself.
But you, at your very core, are never fooled by this game that you are playing. You are never actually subject to the illusion. But it is necessary for you to think that you are. It is necessary for you to fool yourself in order to have this experience. It is by no means sinister or devious. You are in on the plan, but you are made to forget, because if you remembered you would miss out on all of these experiences.
Now why is it that we are telling you this now? What is the point of recognizing that the illusion is not real? We want you to make peace with everything that is so that you can get in on the game itself and begin to project from where you are.
We invite you to take on that role, the role of the creator of the illusion, the creator of the experience, the creator of your own story. And as you do, you certainly can enjoy the fun that you have the ability to create for yourself.
We are the Pleiadian High Council of Seven, and we are very fond of all of you. That is all."
Get Some Clarity – Make a Donation
Show Your Gratitude – Make a Donation