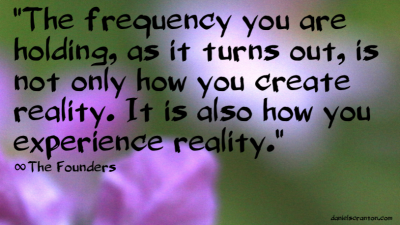 "Blessings.
After all is said and done, you are not capable of making a mistake. You are not here to fulfill some preordained destiny, and you are not here because earth is some sort of proving ground. You are here to experience, and all of you are doing that all the time. So not one of you is messing things up, and not one of you is doing a better job than anyone else, because you are all having your experiences.
When you awaken, you become more aware of your experiences and how to choose them. You become more conscious and know what it is that you want to experience and how to get there. One of the ways in which you do this is by recognizing the frequency you are holding. The frequency you are holding, as it turns out, is not only how you create reality. It is also how you experience reality.
You can experience reality through the five senses, and you can work to create the best possible experience that you can have, by your definition, through your five senses. But even those senses are just means of interpreting vibration.
So you are always having an experience that is frequency based, and when you discover this you can let go of the need for everything around you to be perfect or pleasing to you in some way. And instead, you can focus on your frequency. You can focus on the vibration of all that is in your experience and whether that vibration is one that you want to continue to experience.
But you see the experience of your reality is yours to choose, and that is why there is no right and no wrong. Because you will always experience the impact of your frequency, and that is in a sense your karma.
But you get to decide what your karma will be in this moment and in the next. You do not have to worry that something that you did eons ago is now coming to bite you in the butt, because you are determining the way that you experience everything, even those things you decided upon before you were born into this lifetime.
We are The Founders. We are the keepers of the flame."