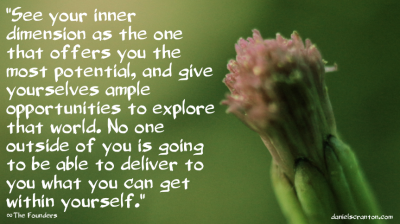 "Blessings.
When there is nowhere else to turn, you go within. When you have exhausted all other avenues, that is when your inner dimension becomes the undeniable next and final step. We encourage all of you to seek this avenue first, rather than last.
See your inner dimension as the one that offers you the most potential, and give yourselves ample opportunities to explore that world. No one outside of you is going to be able to deliver to you what you can get within yourself.
If you are able to live your life without seeking inner strength, inner wisdom, and the ability to feel precisely how you want to feel, then you will find that the outside source for all of this will somehow be taken away. This is not a punishment. This is simply a redirection so that you will know once and for all that you are the ones who can and do provide yourselves with everything that you need and everything that you want.
Take a look inside yourselves right now and feel for what is available, for what is waiting for you. Know the power of your inner dimension, and fear not what you will discover. You are the only path for you. Everything else in this life of yours is for the expression of that which you find when you go deep within yourselves and discover your light.
We are The Founders. We are the keepers of the flame."