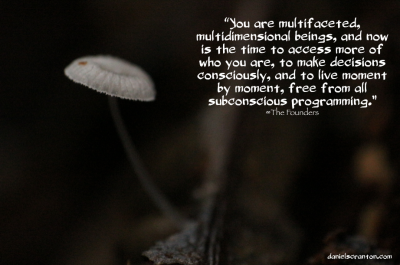 "Presence is your most powerful place. Presence is what gives you the ability to decide. When you are present you are conscious of the decision you are making. When your consciousness is split, and you are not fully in the moment, that is when subconscious programming takes over. That is when you are not deciding, but your programming is.
You are capable of so much when you are present in the moment, and you have access to all aspects of who you are. When your energy is split, the most habitual aspect of who you are is the one driving the ship. But you are multifaceted, multidimensional beings, and now is the time to access more of who you are, to make decisions consciously, and to live moment by moment, free from all subconscious programming.
Now when you find yourself in a moment where you are not being so conscious and present and that programming kicks in, that is when you have the opportunity for more awareness, that is when you can see the programs you are running more clearly. So you see, the moment that you are present you are instantly accessing more of your power. And any amount of split energy and lack of presence is far less important and influential than the moment where you are fully present, fully capable of making a conscious choice for yourself.
If you want an easy way to practice presence, simply do something and give it your full attention. This is why doing what you most desire to do in the moment is so very important. You are much more likely to be present when what you are doing is something you are choosing to do and is something that lights you up.
Be present with what is not so exciting also. Be present with those emotions that you don't want to feel. Be present with the people you would rather run away from, because in a moment of presence with that which is not wanted you disempower it over you. And in the reclaiming of your power, you are able to choose a different experience.
We are The Founders. We are the keepers of the flame."