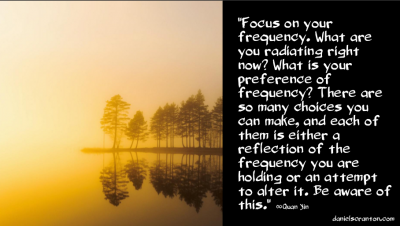 "It is I, Quan Yin.
Radiating out your frequency is not an act that requires effort. You don't need to push. You don't need to turn up the volume. You radiate your frequency whether you are 'trying' to do so or not.
This is a function of the fact that you are everywhere, all the time. You are not really localized in the way that you think you are. You just have a point of focus, and most of the time that point of focus is your physical body.
It is important to focus, to be focused, to be aware. And you can either be aware of the frequency you are holding by tuning to your body, or you can become aware of it by what is going on outside of you. The choice is yours.
I encourage you to pay attention to what is going on inside of you first. Let it be a regular practice for you to check in. Ask your friends, your family members, your romantic partners, even your co-workers how they feel. Get in the habit of asking each other how you feel. Get in touch with that frequency that you are radiating.
And then once you are aware of it, you can easily alter it. But it is so much easier to do so by focusing within yourself. When you see something outside of you that you do not like, feel for the frequency of it within you. Accept that frequency. Bring it back into the whole of who you are by intending to integrate it, and know that just because something is a part of you, just because it exists, does not mean that you have to vibrate in harmony with it. That's a choice.
If you want to make it a conscious choice, focus on your frequency. What are you radiating right now? What is your preference of frequency? There are so many choices you can make, and each of them is either a reflection of the frequency you are holding or an attempt to alter it. Be aware of this. Be aware of which choice you are making. There is no other who can make that choice for you.
I am Quan Yin, and I hold you in my heart."
Show Your Gratitude – Offer a Donation