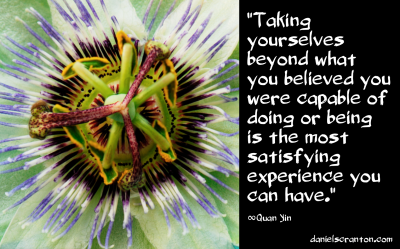 "It is I, Quan Yin.
Taking yourselves beyond what you believed you were capable of doing or being is the most satisfying experience you can have. You are beginning to tap in to more of who you are, and that experience will keep you engaged. You will find that you are no longer satisfied with what you have desired in the physical, because it will pale in comparison to experiencing more of yourself.
The physical reality has been a wonderful playground for you, and its purpose has always been singular. Its purpose has always been the expansion of who you are. The becoming of who you are is inevitable. That is your true destiny. That is the only thing that you cannot avoid. So you may wish to pay a bit more attention to yourselves, so that you can enjoy the ride, and so you can stretch the boundaries that you have experienced around you.
The easiest way for you to experience this becoming is to feel for it. Rather than focusing on the new abilities and trying to do the things that you know you will be able to do in the near future, give yourselves the experience of knowing who you are, what you have become, and what you are becoming.
Become fascinated by your own energy fields. Become more aware of the energy that immediately surrounds you, because in it you can have a visceral experience of what I am talking about.
I am Quan Yin, and I hold you in my heart."
Show Your Gratitude – Make a Donation