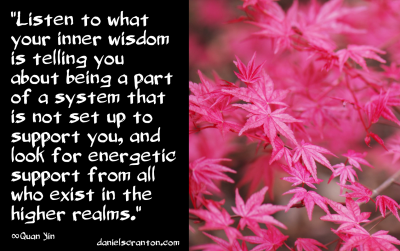 "It is I, Quan Yin.
Being able to sustain yourselves amidst this great shift that is occurring is a very big challenge for many of you. To be awakened and to know that you have a purpose tends to make going to a 9-5 job almost intolerable. So you find yourselves wanting to be of service and to grow and to stay connected and aligned, but at the same time you recognize that you still need to pay the bills
When you find yourselves in dire straits financially and with nowhere else to turn, that is the perfect time to let go completely of the desire to make ends meet. Instead, I suggest that you open yourselves up to receiving from the higher realms. Give yourselves the opportunity to receive and to be supported.
Listen to what your inner wisdom is telling you about being a part of a system that is not set up to support you, and look for energetic support from all who exist in the higher realms. There is not a right way and a wrong way to go about being on your planet. So if anyone still enjoys having their job, their career, their business, and that person is also awakened, I am not saying that it is necessary to let go of what is working for you.
I am speaking to those of you who have tried to make it work and cannot, and I am telling you that it is quite alright to give in, to let go, and to be of service by giving of yourself. You will be supported by this universe when you do. You will find that there is always enough when your focus is on being of service and of working with energy. The energy that you are is supported by all who exist in the higher realms.
I am Quan Yin, and I hold you in my heart."
Show Your Gratitude – Make a Donation