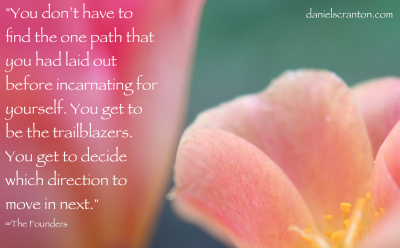 "Blessings.
By now it is perfectly clear to all of you that there is more than one way, that you do not have to follow one path or one set of rules in order to reach an enlightened state of being. Part of the fun of this incarnation for all of you is creating the new path.
You don't have to find the one path that you had laid out before incarnating for yourself. You get to be the trailblazers. You get to decide which direction to move in next. You get to decide where your loyalties lie. You get to decide who you are and your place in all of it.
None of that is determined by a force outside of you. You put yourself on this path, but you also knew that you would have the ability to improvise, to seek a new way of discovering and living a very old truth. We are talking about the truth of your existence as beings of light and love.
And we know that you all get it, and you all want to actualize that which you are and to embody it, live it. And you also have the walls that you put up. Those walls crumble in the face of your light. So you see, you are the way, you are the path, you are the only truth you ever need to cling to.
And your willingness and desire to shine your light, even when you have absolutely no reason to, that is what takes you down the path that has the most joy, the most fun, and the most interesting adventures. You never have to struggle or try to be enlightened. All you need to do is seek that light within you, shine it brightly, see the paths in front of you, and take the one you are drawn to in the moment.
We are The Founders. We are the keepers of the flame."