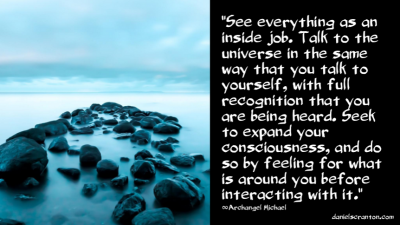 "Welcome. We are here to serve and assist you.
Believing in your ability to stretch yourselves beyond where you have been before is what you are about to accomplish. We are not talking about believing in your abilities to manifest, or to connect with your guides, or to have any type of supernatural power. The ability that we are referring to is the ability to perceive yourselves as the universe you once thought you inhabited.
This is the leap of faith that is necessary for you to manifest, for you to have all of the other powers and abilities that you seek. Even your willingness to see your guides as aspects of you will give you that connection that you desire.
As long as you see the universe as something outside of you that you exist within, you make it harder on yourselves. You put yourselves up against forces that also must exist outside of you. But as you begin to see yourselves as the only force, and as you begin to see the universe as a part of that force that you are, you will have the ease that you seek and you will enjoy your existence beyond measure.
So how do you accomplish this? How do you awaken to this knowing? Start by interacting with your world differently. See everything as an inside job. Talk to the universe in the same way that you talk to yourself, with full recognition that you are being heard. Seek to expand your consciousness, and do so by feeling for what is around you before interacting with it in any other way. Begin to experience all of it as you, expressing in another physical form.
We are Michael. We are infinite. We are Love."