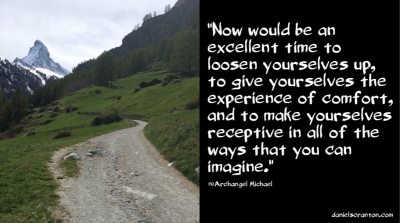 "Welcome. We are here to serve and assist you.
In the process of evolution that is continuous, there are points at which you all decide that you want to make a collective leap forward. And today marks one of those times on your calendar. You all have decided that this would be an excellent time for each of you to get your houses in order. This means that there will be a great dealing of purging, and cleansing, and clearing out of old programming that is not compatible with the shift to the fifth dimension.
The process itself does not have to be painful or difficult in order to be effective. The process of your evolution is automatic. The only question that remains for each of you is how you want to experience it. As the new energies come flooding in to your planet, are you willing to see and know that they are just another aspect of you? Are you willing to accept that they are here to serve you and to serve everyone else? Are you able to integrate these energies by being open to them?
The answer is yes! We ask that you not give your power away to these energies or to see them as larger than yourselves. They are going to work on you on a very deep level, and you will experience change in your personal lives. You will even see some changes on the global scale. But all of it will be according to your plan, according to the plan you laid out for yourselves.
So give in to this plan, and know that a great deal of thought went into creating it. Now would be an excellent time to loosen yourselves up, to give yourselves the experience of comfort, and to make yourselves receptive in all of the ways that you can imagine. You are more than capable of handling these energies, and we know this because we know that you were the ones who decided, as a collective, to call them forth.
We are Michael. We are infinite. We are Love."